Americans love to eat fast food. From children to the elderly, fast food is a must meal for people of all changes. This is why some of the world's top fast-food chains are American.
Here is a list of top fast-food chains in the U.S. that are now million-dollar industries due to the high number of sales in and outside the country both.
1. McDonald's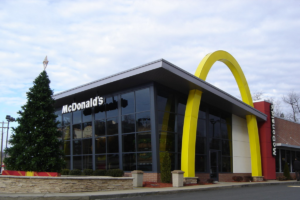 Famous for its delicious hamburgers, McDonald's is an American fast-food chain and among the largest food chains in the world.
McDonald's reputation is unquestioned, and the chain is still the country's most popular fast-food restaurant based on annual sales. According to an estimate, fast-food giant McDonald's accounts for 13% of sales across America's 500 most prominent fast-food chain restaurants.
One of the major reasons for its demand is the fact that it charges half the price of its rival (Burger King). Consequently, it is one of the top restaurants for families, offering affordable meals, fun activities, and a wide range of flavors geared toward both children and adults.
2. Chick-fil-A
Chick-fil-A is one of the best fast-food chains in America. It is no wonder since Chick-fil-A officially offers the best chicken sandwich in the country.
Only Chick-fil-A has ranked in the top five in financial strength, customer satisfaction, and value among all fast-food chains.
The Atlanta-based chain has remained strong and maintained its third place through the pandemic. Despite the growth of its biggest competitors, KFC, Popeyes, and Wingstop, its market share has not declined. As a matter of fact, its sales grew by 13% in 2020.
The fast-food restaurant has expanded its menu to include kale and broccoli salads, a specialty coffee line, new sauces, and a barbecue-bacon sandwich to compete with rivals (Subway and Popeyes).
3. Wendy's 
Wendy's is recognized as one of the top fast-food restaurant chains in America. Its hamburgers, mouth-watering sea salt fries, and Frosty which is a  starch-based soft-serve ice cream are well known.
Wendy's has made notable progress in keeping pace with its competitors. The chain finished in seventh place in 2019, and in 2020 it moved into the top five ahead of Burger King and Subway.
According to experts, a successful breakfast menu launch increased the chain's system-wide sales by 4.8%.
4. KFC
KFC is one of the largest fast-food chains in the United States. It is one of the first American fast-food chains to expand internationally. It is best known for its fried chicken. Initially, according to Sanders' (Colonel Harland Sanders-founder of KFC) recipe, KFC chicken was pressure-fried and flavored with 11 herbs and spices. It is an entirely secret recipe.
A cardboard bucket is used to serve large quantities of the fried chicken, a feature developed in 1957 by franchisee Pete Harman.
There is only one solution to quench your insatiable hunger with KFC chicken whenever the mood strikes. You may not realize why it's so satisfying to chomp down on a piece, but it is.
5. Subway
Subway is an American fast-food restaurant franchise. It is among one of the fastest-growing franchises in the world. Sandwiches and salads are their primary specialties.
A subway sandwich's slogan is "Eat Fresh." The slogan describes how each sandwich is made with freshly baked bread and the finest ingredients. The most notable and peculiar thing is that the entire preparation is made in the customer's presence according to their liking.
The subway sandwiches have gained much traction among customers who are health conscious.
6. Domino's
It is an American pizza parlor chain founded in 1960-one of the leading fast-food restaurants in the US. As of April 2018, Domino's is well known for its fifth position and popularity in the United States. It is just right behind Papa Murphy's, Pizza Ranch, Papa John's, and Marco's Pizza.
Depending on the region, Domino's menus differ. The American Domino's menu currently offers a wide selection of Italian-American main dishes and sides. The restaurant specializes in pizza and offers classic, specialty, and custom pizzas made with unique crust and toppings.
Every day, Domino's delivers over one million pizzas in the US alone. In a week, Domino's delivery drivers cover 10 million miles, which is the distance required to complete 14 trips to the moon and back.
7. Popeyes
It is an American multinational chain of fried chicken fast-food restaurants. It was founded in 1972.
There are mild and spicy chicken dishes available at Popeye's. The chicken sandwich was added to Popeye's menu in August 2019 to compete with Chick-fil-A's sandwich.
After crashing into the world of restaurants like an asteroid, the sandwich made a significant impact after returning to the menu.